Add Style And Function To The Heart Of Your Home
For many, their kitchen is the centerpiece of their entire home. We want to help you transform yours into a stylish, functional, and delightful place. We want to help you create a kitchen that gives you everything you need to master dinner time while being a welcoming place for your family and guests. With brand-new appliances, reimagined cabinetry and storage, and gorgeous features, we'll work together to make your kitchen the envy of your household.
Complete Kitchen Renovations
We are a full-service home renovation contractor with the skilled and qualified professionals to tackle any kitchen remodel project from start to finish. From small upgrades like installing new countertops to complete renovations from floor to ceiling, we can handle everything you can dream of.
A new coat of paint in your kitchen can do wonders for changing the look and feel of your kitchen. A light color will help create a more open, clean appearance while darker coats create a more cozy feel. Painting a kitchen is the same as painting any other room in your home however if you add the cabinets into your paint job you'll be amazed at what it can do to change the way your kitchen feels.
While by far the most cost effective way to restyle your cabinetry, repainting offers less durability and options than refacing, refinishing or replacement. However if your happy with the layout, space and hardware of your existing cabinets it can be a great choice. Repainting your cabinets involves removing the hardware, doors and drawers. Once removed we sand, prime and paint, it's that simple.
Changing the cabinets in your kitchen is a great inexpensive way to change look and feel of your kitchen. We can offer you options that will last long, match the color and style of your home better as well as give you customized storage space that better suites your needs.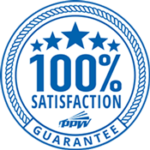 Your Satisfaction, Guaranteed
At MP Remodeling Homes, we guarantee to deliver the best results possible for your property using our safe and effective processes!